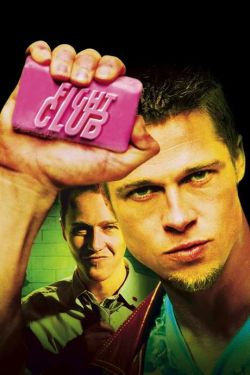 Genre
Drama,Action/Adventure
Released
1999
Brad
Natalie
Story
6
5
Originality
8
8
Cinematography
7
7
Actors
8
7
Acting
7
7
Depth of Characters
5
6
Setting
5
5
Pacing
6
6
Design
8
5
Extra
8
1
Total Score
68%
57%
Rotten Tomatoes score
88%
Average Rating (B + N)
63%
A definitive movie of the 90s, Fight Club is a fun romp through the psyche, and the twist demands further viewings.
Combining a suave, care-free and confident Brad Pitt with an uptight, neurotic and insomniac Edward Norton was probably the best part of this movie. I cringed almost every time Helena Bonham-Carter appeared, but the best scenes were of Pitt and Norton alone on the screen in the first half of the movie.
The movie's characters take an introspective approach to questioning of everyday life: Why do we buy stuff to make us happy? What do we really know about ourselves? What is this generation's "great war"? The answers of course aren't always black and white, but the movie tends to give sense to Pitt's characters explanations to the point where you'd follow him wherever he went as well.
A fun plot twist lends to some rewatching, similar to Memento in a "how'd they do that" sort of way. Overall not the best movie out there, but worth one viewing at least.