On your birthday, a goodbye letter that's a year overdue.
When someone from my direct family leaves us, I usually have the opportunity to stand up and say a few words from my heart about what that person has meant to me, what they've meant to all of us, and the lasting impression they will leave now that they are gone. I wasn't exactly given that opportunity in a formal setting, so I feel this has been an unchecked box for quite a while now.
Tom left us too early, with so much more potential for life talks, inappropriate jokes, supportive phone calls, Michigan football games, and family get-togethers that we feel robbed of by his absence. We look back on the past 5 years that he'd suffered through (and that Karen had beside him as well), and our hearts ache that any person would have to go through the pain and the anguish, and the anxiety of "is this going to be the time?", let alone someone so close to us. And we've been just far enough way, and buried in our world of jobs and children (our oldest was born at the same time Tom had life-threatening heart surgery), that we've had to anguish with them but from afar, both physically and mentally.
But I guess that's the thing: We instinctively think of the past 5 years and think "That's a shame about what Tom went through and how it all happened." But after that fades, there's a sense of yes, it was bad, however that is 5 years that we had to still talk with Tom. That is 5 years that Tom was able to watch his grandsons grow older (and one be born). That is 5 years of occasional get-togethers, birthdays, holidays, and going out to eat. COVID definitely diminished this, but that doesn't detract from what we were able to do. Phone calls were still there, and Facetime visits were still there. Masks and nice weather allowed some in-person visits, as well.
The point is that the more time is put between us and those 5 years, the more I guess I look back on that time as a blessing rather than a curse. And without diminishing the significance of the bad parts, we can look back on that time as extra time given to us and to our boys to know their Grandpa and to have conversations, take photos, and make memories.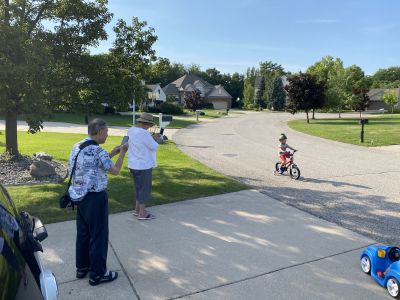 And sometimes, I get tired of thinking about what went wrong in Tom's life, and I just want to think about all the things that went right. Like how he became a great father for his daughter to talk to. How we'd have so much fun watching the Detroit Lions lose. How he'd love to take long train rides across the country, and visit us in Chicago, and spend way too long reading every placard in the museum exhibits. He loved his sausages and tuna sandwiches and visiting a loved restaurant and a glass of beer. He loved spending time with his friends and family, and yucking it up and complaining about the liberals. He loved walking out to the lake with his dog and enjoying the sunshine and the fresh air. He loved the newspaper and the crossword and his latest history book.
Tom wasn't perfect. He made mistakes as we all do, and he paid for some of them, as we all do in our own ways. But Tom was mostly just a great person. Ask anyone that's ever met the guy. Did he ask you how you are first before talking about himself? Did he quickly get off the subject of his medical issues to find out about that trip you took? Did he wear his heart on his sleeve? You're damn right he did all of those things.
Tom's legacy lives on in our hearts and in our memories, and in our stories and photographs. He's not gone, but just transferred from a person that can only be with us sometimes, to an idea, a feeling, a presence, and a thought that can be with us forever.
"So, there we were, in the Florida sunshine, my wife of 35 years, my daughter, and my son-in-law. Folks, it doesn't get any better than that for me. Would I go back and change any of that? Not on your life." - Tom Fett